With the COVID-19 pandemic impacting big businesses everywhere, the question is, how significant is the impact on them? Well, we've been looking at the data, and here's what we found. Obviously, the economic impacts have been significant, with shoppers making major shifts in their spending habits. Some industries have fared better than others.
You probably already have an idea of which ones suffered the most. However, there are some that may surprise you. Businesses thriving right now are those who can adapt to web-based revenue generation. Beyond this massive shift, here's how COVID-19 impacts big business today.
Sharp Drop in Sales
The Chicago Booth Review conducted a survey that found there was a significant drop in sales from the start of the lockdown measures taken by local, state, and federal governments. A 12% drop in sales within the first two weeks was a contraction never seen in recent history. During the average recession, a drop half that drastic would be cause for alarm. This shows just how devastating the economic impacts of COVID-19 have been.
When it comes to online businesses and businesses that rely on acquiring new customers through their websites, the numbers are staggering. The traffic to most industries has plummeted. It's not that surprising that travel, transportation, and construction businesses have taken the biggest beatings, while food, healthcare, and media companies have enjoyed the most significant increases. Still, businesses in practically every industry, from advertising to manufacturing, have all seen a precipitous drop on new leads and conversions due to lockdown and social distancing measures. Also, with tens of millions now unemployed or furloughed, there's not much consumer spending occurring right now.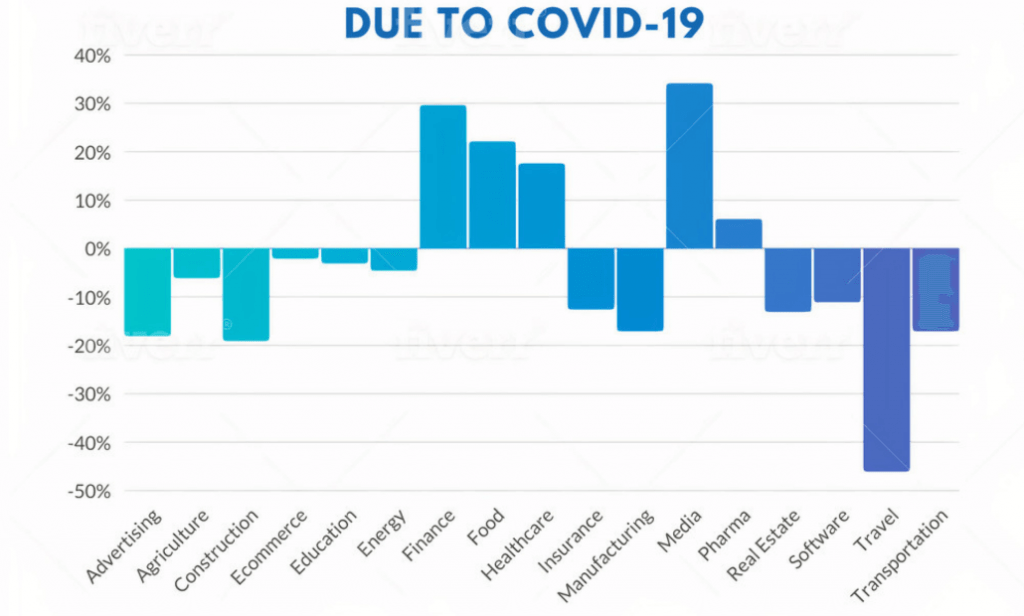 Bankruptcies Are Through the Roof
Going-out-of-business sales are everywhere right now, especially for retailers. Throughout the pandemic, especially in the early months, 45 states had largely mandated that all "non-essential" businesses had to shutter their doors. Additionally, global supply chains have been disrupted. Fitch downgraded the credit ratings of several major retailers. From the looks of things right now, big retailers are weathering the storm, while marginal retailers are floundering.The situation is dire. Around 52% of all small businesses expect to go under at some point this year. If that figure sounds shocking, it should be. It comes out to roughly 14 million businesses closing their doors for good this year alone. Whoever survives will enjoy a larger market share and greater revenues due to less competition market saturation. Those who don't survive will have learned a hard lesson: adapt, or else.
Big Corporations Are Doing Better Than Ever
As tragic as things are for many marginal retailers and smaller businesses, the big corporations like Amazon and Walmart are enjoying their biggest revenue streams yet. Jeff Bezos, the man behind Amazon, has seen his net worth shoot up to $143 billion this year, and is projected to become the world's first trillionaire by 2026! With brick-and-mortar stores closed down, Amazon, and companies like it, cornered the market. Amazon has hired over 100,000 workers to keep up with the consumer demand, and just reached an all-time high stock price.
Microsoft has seen significant increases in its cloud computing revenues. In fact, it accounts for 36% of its total revenue and climbing. Cloud computing has become instrumental for big businesses when so much has to be done remotely. It's the perfect solution to the times we are in. These are the kinds of big companies that are thriving in the new economic landscape, which can be a cue to others as well.
eCommerce Has Grown Exponentially
Amazon is perhaps the largest eCommerce business in the world today. However, there's a wealth of companies like it that are also benefiting from the impacts of COVID-19. Retail sales have previously made up 85% of all retail sales in the US. However, with 28% of web users avoiding public places right now, that number has significantly increased.
Fulfillment and delivery have slowed down while ecommerce demand has risen. This has made it challenging to keep up with the increased demand for shopping online, leading to a reevaluation of how to best address these issues. Keeping workers safe is a primary focus for online retailers, putting them in a difficult position. Still, COVID-19 is impacting big businesses that rely on online sales in a major way and will continue to far into the future.
Working From Home
Speaking of the shift to things being done remotely, businesses have had to adapt to lockdown and social distancing measures quickly. Working from home was the natural solution. Millions of employees everywhere began working remotely, which had a silver lining to it. In fact, it may be a major advantage. Less commercial space needs to be rented out, which saves on overhead. Also, employees are more productive and work the equivalent of an extra 1.4 days of work per month. Additionally, they no longer need to take long commutes to a physical office.Some workers may end up working remotely permanently. Even after COVID-19 is a somber and distant memory, 74% of CFOs expect at least some employees to stay at their home offices permanently. Anywhere from 10% to 50% of employees are expected to stay as permanent remote workers moving forward. With 13% of big businesses reducing how much commercial space they own or rent, it's clear that these companies are seeing a long-term reduction in employees working from centralized offices.
Wrapping Up
We will all look back at 2020 as being a year where businesses everywhere either adapted or disappeared. COVID-19 has reshaped the way business is conducted. Big companies have had to make changes to stop the bleeding, with varying degrees of success. Those who have succeeded the most have not only seen revenues climb, for even significantly increase. Yes, the pandemic has completely changed the B2B industry, but ultimately it's going to be for the better.